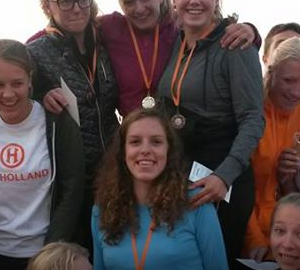 Om KAV Holland beter te leren kennen willen we in 2016 af en toe iemand aan het woord laten over zijn of haar ervaringen.
Na de interviews met Roland Thon, Alyanne Bos  en Peter van Haaren maken we nu kennis met Mirthe Wiltink.
Hoe ben je bij KAV Holland terechtgekomen?
Ik ben als A1 pupil begonnen bij KAV Holland en ik ben nu al bijna 14 jaar met veel plezier lid van de club. Mijn moeder heeft ook altijd aan atletiek gedaan bij KAV Holland en ze vond leuk als mijn broertjes en ik atletiek eens uit zouden proberen. Ook ik vond het een geweldige sport en ben dus lid geworden. Op dit moment train ik 4 keer in de week bij de sprintgroep van Victor.
Vertel eens wat je voor de club doet
Ik geef nu al een aantal jaar training bij de pupillen en sinds dit jaar geef ik de D junioren training. Ik vind het erg leuk om te doen, het is geweldig om de kinderen te zien groeien in de sport! Daarnaast zit ik nu als trainer bij de Jeugdcommissie en de Technische commissie.
Afgelopen jaar, toen KAV Holland 90 jaar bestond, heb ik in de Jubileumcommissie gezeten. Ik heb samen met Kas en Alyanne de familiedag en het afsluitende feest georganiseerd.
Je leukste ervaring
Ik heb heel veel leuke ervaringen op de club gehad. Bijvoorbeeld de familiedag van dit jaar. Het kostte wat tijd om alles te organiseren, maar het geeft ontzettend veel voldoening als je achteraf van iedereen hoort hoe leuk ze het hebben gehad. Ik vind het ook erg leuk om als trainer mee te gaan naar wedstrijden en pupillen-, of C/D junioren kamp.
Heb je een handige tip voor het stimuleren/werven van vrijwilligers
Ik denk dat het hebben van een clubgevoel heel belangrijk is voor het binnenhalen van vrijwilligers. Atletiek is leuk, maar als je het doet met vrienden is het nog leuker, de drempel om dan wat voor je club te doen wordt lager.